Dane J. Flesch, Esq.
Attorney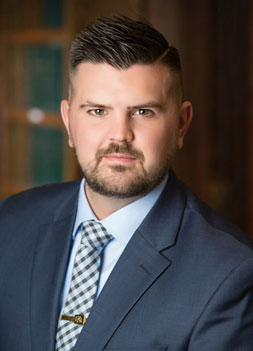 Dane J. Flesch, Esq.
Attorney
Mr. Flesch has been an associate attorney at Rubenstein & Pitts, pllc since June of 2017. He earned his Juris Doctorate (J.D.) at the University of Oklahoma, College of Law in 2013. Prior to that, he earned his Bachelors of Science degree at Texas A&M University in 2010. Since his admission to the Oklahoma Bar, Mr. Flesch has represented hundreds of clients in many types of litigation, including: divorce and custody actions; probate matters and estate planning; insurance disputes; bad faith claims handling and breach of contract actions; employment and wage disputes; eviction actions; personal injury suits; employer retaliation and discrimination cases; criminal defense; and more. Over the years, Mr. Flesch has sat as lead chair to several trials, appeared at and conducted hundreds of mediations and/or settlement conferences, and has otherwise, successfully litigated numerous cases at the municipal, state and federal levels. He has experience in legal proceedings outside of the courtroom as well, including arbitration proceedings, complex contract drafting, business negotiations involving, and handling administrative or regulatory matters such as cases involving workman's compensation, the Oklahoma Real Estate Commission, or the Department of Human Services.
The son of a USAF fighter pilot and teacher, Mr. Flesch knows that there is no substitute for hard work; however, as the adage goes, "working smart trumps working hard any day of the week…". As a dedicated litigator and student of the law, Mr. Flesch believes that information is power and preparation is key. A client deserves to be informed of the legal and practical circumstances of his/her case throughout the entire process. Accordingly, Mr. Flesch strives to personally tailor his representation to the client, regardless of the size or nature of the case. Mr. Flesch believes that as a matter of professional responsibility, you are entitled to honest, frank, well-founded, and zealous advocation and takes pride in providing the same. If you have a legal concern, please contact Mr. Flesch and see what the law offices of Rubenstein & Pitts, pllc can do for you.

---
Education
J.D. from The University of Oklahoma College of Law (2013)
B.S. in Systems Management with focus on Construction Science from Texas A&M University (2010)
Minor in Business Administration from Texas A&M University (2010)
Admissions
U.S. District Courts for Wester & Easter Districts of Oklahoma
American Bar Association; Oklahoma Bar Association
Oklahoma County Bar Association; OBA Family Law Section
Honors and Awards
Multiple semesters of Dean's List (Texas A&M University) (University of Oklahoma College of Law)
Merit-Based Out-of-State Tuition Waiver, University of Oklahoma (all semesters)